Squamish V8s have always seemed to cover a wider range of difficulties than other grades. Ask most people and they will probably agree that problems like The Weasle, Sharma's Arete, Vitamin D, and Corner Relief are all pretty damn hard compared to many other V8s.
People definitely want to climb "double digits" but throughout the forest you'll hear endless claims that No Troblems should be downgraded. It's not the only V10 that's considered soft.
At the same time, it seems like there aren't all that many V9 problems in Squamish.
Does Squamish really have a bunch of V8 sandbags and V10 softies that should be V9?
Creating the Squamish Bouldering 3rd Edition Graded Index gave me data that might expose a possibly mistaken use of grades in Squamish.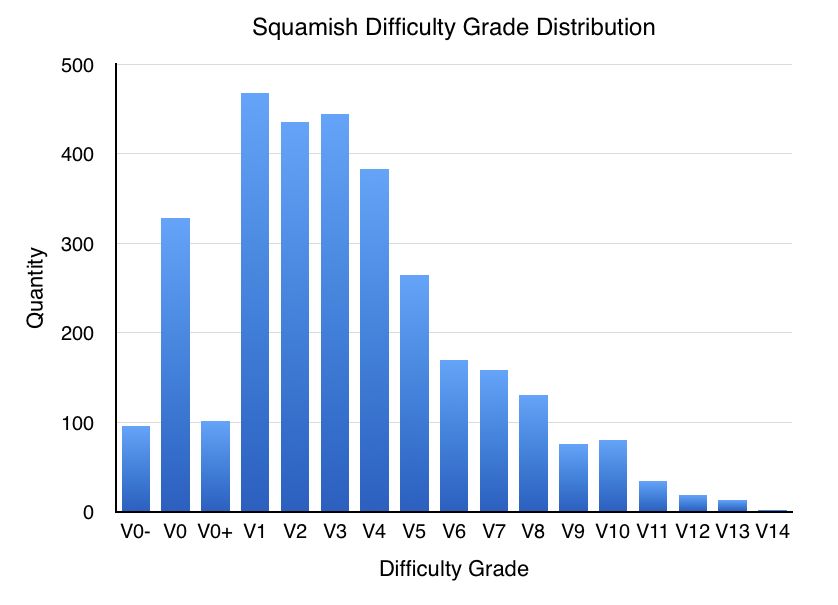 Less V9s than V10s?!
From V3 up, V9 is the only grade that has less problems than the next grade up. I cannot think of anything inherent about the shapes of Squamish granite that would make V9 not lie along a smooth decay curve as the grades increase.
Looking at this data, it appears we should not be shy about moving a few V8s up to V9 and some V10s down to V9.